Dry Ice Blasting Equipment-Dry Ice Blaster for Cars
Commercial equipment-WM Machinery
Regular price
$1,580.00 USD
Regular price
Sale price
$1,580.00 USD
Unit price
per
Sale
Sold out
Tell us your requirements to get best quote

Zhengzhou Wenming Machinery Co Ltd.

Address: Waibao Industrial Park No. 139 Yangjin Road Jinshui District Zhengzhou City, Zhengzhou, Henan, China

Office:0086-13-303-831586 

You can contact us to get more details of machines or let us know your requriement we can design and manufature machine according to your need.
Warranty of our machines

All WM Machines will pass strict inspection before shipping, the guarantee period is two years, any part broken we can offer for free. And we will offer lifetime technical support.

Click to check details:Warranty.
Shipping cost checking.

Because machines are with bigger size and weight,
different machine modify, different Packing size and weight. Both the size/weight, and delivery address will affect much to the shipping cost.  Please confirm the shipping cost with us, we
will recommend you the best shipping methods and costs for choose.

Whatsapp/Wechat:+8615937826701
Dry Ice Blasting Equipment-Dry Ice Blaster for Cars
1.Dry Ice Blasting Equipment Introduce:  
This Dry Ice Cleaning Machine is speical designed for car repair shop.
The design of the back storage box can reasonably store the equipment accessories, showing the lean design concept. After the equipment is used and stored, it has strong integrity and avoids the clutter of the station.
A filter is set at the inlet end, and the dry compressed air reduces the probability of ice blockage in the injection process.
Exquisite appearance design to improve the professionalism and beauty of the workshop.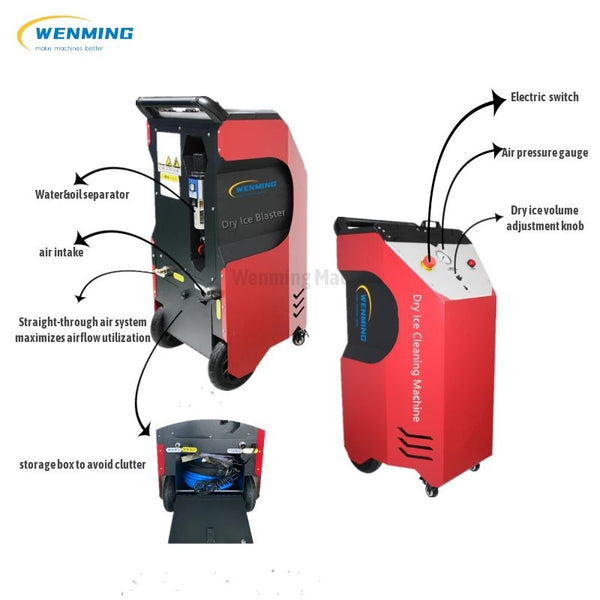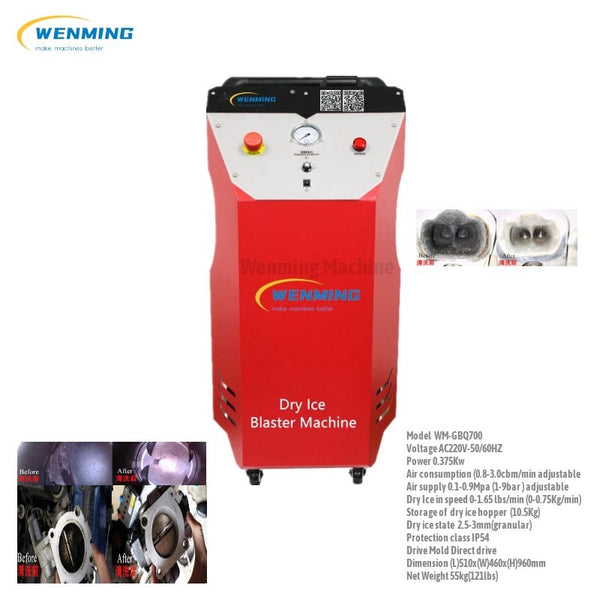 The Dry Ice Cleaning does not cause any damage to the surface of the cleaning object, especially the metal surface, nor does it affect the smoothness of the metal surface. 
Dry Ice Blasting Equipment other use
The dry ice blast cleaning machine is mainly used: 1. In automotive industry - to clean carbon deposits inside the engine, mold, as well as wax and polyurethane residue on the car seat tooling. 2. In tire industry - to clean tire mold. 3. In power industry - to clean generator housings, fan blades and power distribution systems, as well as the surface of stators and rotors. 4. In food industry - to clean carbon deposits on conveyor belts, furnaces, baking trays, rollers, and other transport devices. 5. In printing industry - to clean ink and fuel deposits on gears, guides and nozzle. 
You can click here to see all of our models:List of our Dry Ice Cleaning Machine
Dry Ice Cleaning Machine Principle
When the equipment is working, the dry ice is transferred into the ice mixing chamber at the discharge port of the funnel. There are grooves on the circumference of the ice cutter wheel inside the ice mixing chamber. The grooves can hold dry ice pellets,The mixed popsicle is driven by the motor to rotate,Dry ice is brought into a relatively closed space by rotating motion, mixed with high-pressure air flow, and then pushed by the air flow through the ice conveying pipe, and is constrained to a specific air flow line by the handle spray gun and sprayed out.It hits the dirt surface and instantly expands about 800 times.After its own volume peels the dirt ff the surface of the object, it is taken away by the airflow.Adjust the appropriate amount of ice output according to the strength of dirt adhesion.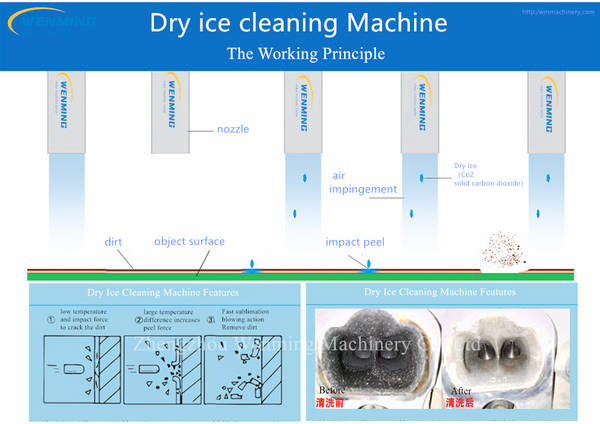 2.Dry Ice Blasting Equipment Machine Technical Parameters:
GBQ700 
dry ice cleaning machine for cars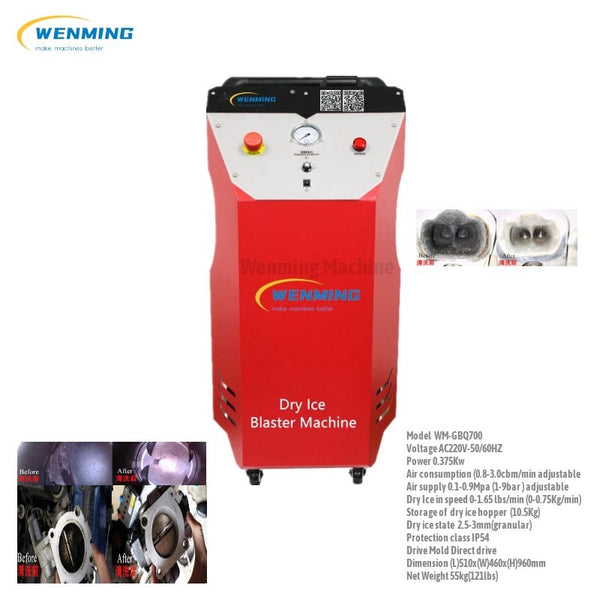 Model

WM-GBQ700

Feature:

Voltage

AC220V-50/60HZ

Spare

Power

0.375Kw

Air consumption

28-106CFM

adjustable-80PSI

(0.8-3.0cbm/min

adjustable-5.5 bar)

 

Air supply

0.1-0.9Mpa (1-9bar ) adjustable

 

1 intake pipe

1 ice outlet pipe

1 hose spray gun

1 long handle flat nozzle spray gun

4 SUS nozzles

1 90° right quick connector

1 sheath

1 ice shovel

1 mask

1 ear cup

1 push button switch

1 pair of earplugs

1 pair of gloves

Dry Ice in speed

0-1.65 lbs/min (0-0.75Kg/min) adjustable

Storage of

dry ice hopper

23.5 lbs (10.5Kg)

 

Dry ice state 

2.5-3mm(granular)

 

Protection class

IP54

Drive Mold

Direct drive

Dimension

(L)510x(W)460x(H)960mm

Net Weight

55kg(121lbs)
 Also have other Dry Ice Cleaning machien modles for differnt use
the GBQ750 speical for Cars Dry Ice Cleaning, have big Dry storage capacity.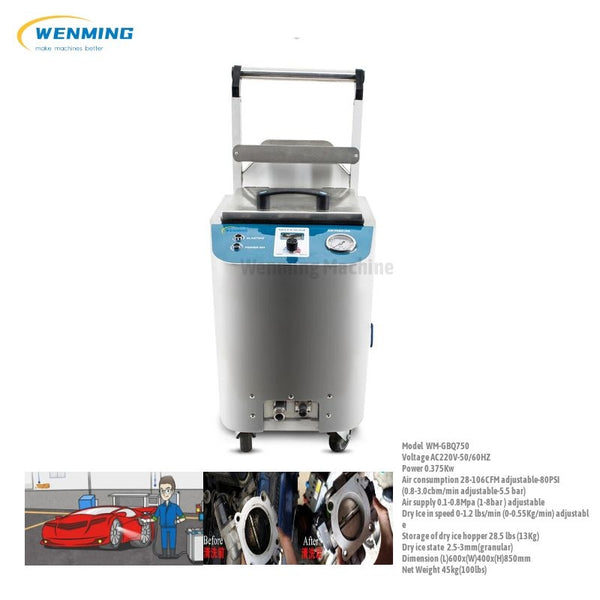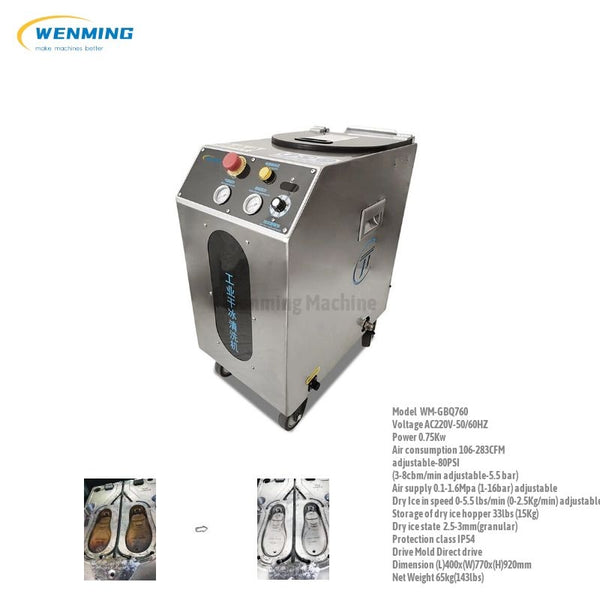 Share
View WM Machinery Factory Panorama Video
Zhengzhou Wenming Machinery Co.,Ltd
With years of manufacturing and sales experience in machinery industry, we also manufacture other related machines, such as such as Sterilization machines, Packing machines, Testing and Inspection machine, automatic elevate machines industrial cleaning machines and so on.
We are skill at offering automatic production line solutions according to customers' requirements.We have achieved a good fame for Customized design high quality machines or production lines and best service concept of " Machines makes life better, we make better machines", and established a recognized brand in machinery industry.
Sincerely welcome domestic and foreign customers to join us and seek mutual development and win-win cooperation.